Car Ignition Repair - Everything you need to know about locksmith coming to rescue!
The car Ignition cylinder is a very sturdy piece of hardware.
However, imperfections might make it impossible for you to start your car, thus creating the need to fix or replace the cylinder or in other words you need an car ignition repair !
This should only be done by car locksmith experts.
It is important for the ignition to be installed correctly as you want to be able to start your car effortlessly every time.
A defective or malfunctioning ignition cylinder might cause you to get stuck in remote and cold places without any chance of quick help for a locksmith service.
This is where you need our Car Ignition Repair Service.
SIGNS OF A BAD IGNITION , IF AN IGNITION REPAIR IS REQUERIED
The ignition won't turn
Maybe your key or internal parts of the cylinder are beginning to wear out. This is a problem when certain ignition positions are not working properly.
The car does not start
The cylinder might be jammed, preventing you to start your vehicle. This No start condition can be caused by other problems which can be discovered by running a full diagnose.
Inserting and removing the key does not "feel" right
Repeatedly inserting and removing the car key causes it to wear out eventually. If the key jams or binds, it might prevent you from starting your car. Any sign of this should be taken as an indicator of an ignition cylinder gone bad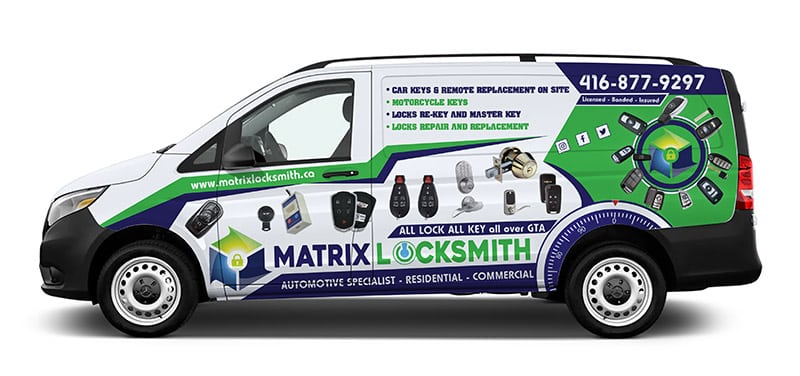 Fortunately, Matrix Locksmith experts are always near with our Car Ignition Repair service. Our marked cars have everything an expert needs to repair a malfunctioning ignition. If you state your problem when you call our experts, we will make sure we have a replacement for your specific model and year right with us just in case. We take special care not to damage your car's interior and dashboard, and will always provide duplicates when requested.
When dealing with your vehicle and other valuable assets, only accept help from certified and bonded locksmiths.