Locked Keys in Car – Car Lockout Service Toronto
Car lockout is fairly common. Most car owners have experienced them, and they prove to be one of the most annoying experiences as they happen when we least expect it. When car lockout occurs during winter / cold season, it is especially a significant risk to the owner.
But worry not! With Matrix Locksmith, there is always a trusted lock expert able to open your car in a matter of minutes.
Locked Keys in Car?  Our mobile units are ready to answer your call no matter the time or day of the week. Our primary concern is that you are always safe. Waiting for help under sub-zero conditions is not something to joke about.
Matrix locksmith in Toronto makes sure you have top of the line help, a timely response, and the most competitive prices, to answer your car lockout situation.
We unlock doors, trunks, and ignition cylinders. We also perform re-keying and craft key duplicates right on the spot with our state-of-the art and portable key cutting machines installed in all of our vans.
Car Lockout Service Toronto Area
Thinking of Unlocking the Car Door Your Self ?
You might have heard of people who solve their car lockout issues by opening their car's door themselves with a coat hanger or a slim Jim. 
First make sure all your vehicle doors locked , checked the trunk as well , 
As surprisingly some cars are not necessarily  has automatic door lock including the trunk 
So might have access to your car through the trunk . 
While these techniques might be useful in certain situations, they might prove harmful if performed by inexperienced hands. 
 Locked keys in the car , Matrix locksmith can open the car door at no time
Besides, we do not consider them appropriated tools for the job as they often end up damaging the locking system.
Newer locks made differently, so these old techniques would actually do more harm than good. 
Do not risk having to spend more on repairs and paint jobs just because you believe you will save time and money.
Call your trusted professionals at Matrix Locksmith in Toronto and get back on the road without breaking the bank with our car lockout service in Toronto.
If you lost your keys, we create brand new duplicates right on the spot.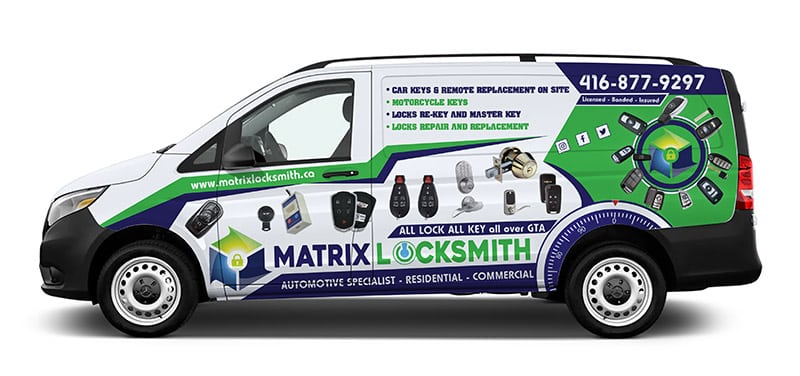 Open A Locked Vehicle doors by A Trusted Car Locksmith Expert
It is something very common for anyone of us to confront with a situation where we are locked out of our car with no clue of how we can wriggle out. 
It is also customary for most of us to try it; believe us, this can cause more damage to the locking systems.
This situation requires a professional locksmith touch to make sure your door lock responds smoothly every time after the opening.
Credentials necessary To Gain Back Access to your Car
When you Locked Keys in Car
here is another statutory requirement about the trade that we are engaged in.
According to the directions of the police department, we cannot just go open a car provide a replacement car keys provide keys just for anyone, anywhere or at any place.
Before the car lockout procedure, or a new car key or car key replacement is provided, it is required under law to establish the identity of the owner of the vehicle as also his or her ownership of that particular vehicle.
The owner of the vehicle has to provide:
Documents to prove their identity
Documents to show that he is the legal owner of the vehicle for which the key is being provided.
This is to make sure our service is not being used unlawfully.
Matrix locksmith in Toronto makes sure you have top of the line help, a timely response, and the most competitive prices. We have the best Locked Keys in Car Toronto service.
Locked Keys in Car. Call Matrix Locksmith Toronto Today