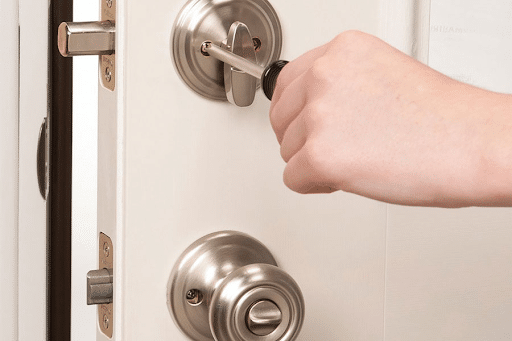 A latch is a spring-loaded bolt that resides within the locking mechanism of the doorknob and a deadbolt, or in some cases, both a door knob lock and aside from it. 
Every of these locks serves as a method of protecting the door and preventing intruders, but what are the practical distinctions between them? Which one is superior? Below is a more in-depth comparison by 24 hour locksmith of how latches differ from deadbolts, including their benefits and drawbacks.
Latch-based locks are quite popular, with spring-loaded latches being the most popular type of locking mechanism found in a typical lockset. Spring latches are generally divided into two categories:
These latches have a spring-loaded bolt that is angled off at the top edge. The angled side of the bolt will come into contact with the strike plate's edge or lip as the door is shut, pushing the bolt back due to pressure.
When the bolt reaches a certain length, it will fully extend and quickly lock into the strike plate as a result of the spring's pressure being released, keeping the door shut and secure.
When someone opens the door using the handle, latches are designed to retract and separate.
This device is a more sophisticated version of the basic latchbolt. Deadlatches come with a guardbolt, which is a smaller cylindrical bolt positioned beside the latchbolt. 
The guardbolt is designed to move in tandem with the latch bolt until the latch bolt extends into the strike plate. 
The guardbolt remains in a lowered position against the strike plate at that point, preventing one of the most popular burglary strategies known as jimmying or shimming.
Because the guardbolt is positioned in a certain way, using a credit card or any other thin, flat tool will not enable the latchbolt to be pushed down.
Bolts and Deadbolts are thicker, heavier, and not rounded or angled at the end. They are generally constructed of steel, bronze, or brass, and they go deeper into the door frame than spring latches–usually about an inch. 
A deadbolt may be opened by key, turn knob, or an automated motor such as with a keyless system. The function of a lock is to keep people out who don't have the correct key. 
A deadbolt and a latch are similar in that they both engage (or release) when the tumbler turns to the right position, with the pins moving into alignment. 
The fact that latch-based locks have door knobs or door handles whereas deadbolt locks do not is one of the most significant distinctions between them.
Latch vs. Deadbolt: Which Is Better?
Some locks have distinct benefits, such as a latch bolt that automatically locks and most deadbolts that need manual locking. 
Deadbolts are generally thought to be more robust and difficult to pick than latch bolts, however. The potential accessibility of a latch-based lock is one of its most important drawbacks. 
For example, if there's a neighboring window, a thief may simply smash it and then reach inside to turn the doorknob in order to enter the house. Deadbolts may be inconvenient since they need manual activation, which might be overlooked by accident if you're in a hurry to leave. 
Many homeowners in Toronto use a combination of deadbolts and latch-based locks to improve the security of their house.
The Most Effective Alternative
The most practical solution would be to acquire a keyless lock that has both a key and a deadbolt. Both gadgets can work together to provide two security layers for your house, and their simplicity of use cannot be compared to typical lock-and-key systems.
Consider the Schlage FE595 Keypad Entry Flex Lock, for example. It's pick-proof, bump-proof, and requires a specific key code to access your house. Combine this device with a keypad deadbolt lock like the Schlage BE365, and you'll have another layer of protection to deter unwanted visitors.
If you want to receive complete protection, get the help of a professional Locksmith. Because of an improperly installed lock, it's not unusual to find excellent locks stolen. Contact Matrix Locksmith at 416-877-9297 now.
Licenses and Certifications
These are just a few licenses and certifications and memberships Matrix Locksmith can show case the residence of Richmond Hill to ensure safety  and peace of mind .
Request a Service Now or Contact us at (416) 877-9297 Affordable prices!