LOCK CHANGE & LOCK RE-KEY ALL YO NEED TO KNOW BY A PROFESSIONAL LOCKSMITH
How Does A lock Smith can Help You with A Lock Change Service?
Locks are made to provide security to objects and premises.
However, there several important security wise reasons why people need the services of a locksmith in changing locks.
These may include:
Losing a key lock
Moving to a new house
Want to restrict occupants of the house
Attempted to break into the lock
Worn out and difficult to work with lock keys.
Need to occasional change of locks for maximum security
Lock change services from locksmiths are widely available in Toronto.
You can easily get a locksmith to replace your locks and provide you with the maximum protection lock of your choice.
Is it Cheaper to Lock Rekey or to Replace A Lock

 Matrix locksmith can provide you with a new multlock key , Rekey your locks in Toronto
Prices on lock rekeying and changing locks vary in Toronto.
The type of lock type, security level , commercial or residential lock grad level also design that you desire to change into determines how much you will spend in lock changing .
Nonetheless, rekeying is relatively cheaper than lock changes prices.
A lock Rekey varies between 45$ to 65$ depending on the type of the lock you have .
The reason for the price difference lies in terms of the service intensity and cost of purchase of the keys and locks as locks are relatively higher priced , 
than only rekeying the lock cylinder and replacing the cylinder pins t
o a new combination .
Lock Rekey may not mean changing locks but only replacing the keys with a similar key blank type , the locksmith will provide with a new key for your existing lock , 
once a lock rekey is done the old key will no longer be working , opening or locking the door.
The whole point of a lock Re-key , is only getting a new key and cancelling the old one .
How Much Does It Cost to Get Locks Changed
Lock change prices vary with the locksmith engaged and companies involved therein.
Matrix locksmith in Toronto, are charging between
$65 to 120$ for residential locks replacement, additional charges may also be incurred like locks preference and service call fee 
However, there will always those companies like 24/7 Toronto locksmith indicating $35 and in small letters and up , please be alert and always ask for a price range or a fix price to avoid surprises later . 
Call Professional Locksmith (416) 877-9297 , you can talk directly with a locksmith and inquirer about a lock change at your house of business , 
All prices can be given over the phone , once the locksmith will determine the exact lock type you need .
Our motto is having all the information to be given upfront, honesty and professionalism is our number 1 priority .
Call professional Locksmith for advice if one of the following happened :
You just moved into a new house, apartment
Changed your business venue
Are having problems with uncooperative tenants
Can You Change The Locks Yourself ?
Most technical work can be done without needing a professional locksmith.
However, the need to have a professional locksmith to handle the work is on issues with the quality of the service.
 By changing your own locks , First you will need to purchase a new lock, as mentioned before the lock rate rated for their security level , find a lock that you are feeling the most secure with and that fits your hose design colors
Deadbolt kits are including the following :
Lock cylinder

A strike plate , usually made our of steel

Turn assemble

and Mounting hardware
 , 2 visible bolts in the turn assembly plate and remove it, pull the lock ans look for the holes in the door .
STEP 3
Remove old deadbolt
please note , as it is a very important adjustment the deadbolt has to be installed facing "up" , look for the label word saying "up" on the bolt.
STEP 4
install new deadbolt
there is a bar coming out of the new deadbolt insert it through the space of the deadbolt it self .make sure the keyhole stands vertical. On the back / opposite side , do the same with the bar through the channel and turn the assembly plate, wiggle the knob to expose the bolt holes
the new lock should be fastened in place, test it form both paths , make sure the lock and unlock options .
Please note , that our locksmith are Bonded and Insured , please take extra caution while installing lock hardware as this may be completed .
Congratulation if you have done it all and past the test , you may want to consider to become a locksmith in Toronto .
Locks are security apparatus and therefore risking a shoddy job by yourself changing the locks choosing to jeopardize the safety of your objects and premises.
If you have an experience in lock changing yes you can change the lock!
Let A Professional Locksmith Guide you through a phone Call if you have all the necessary equipment 
CALL 416-877-9297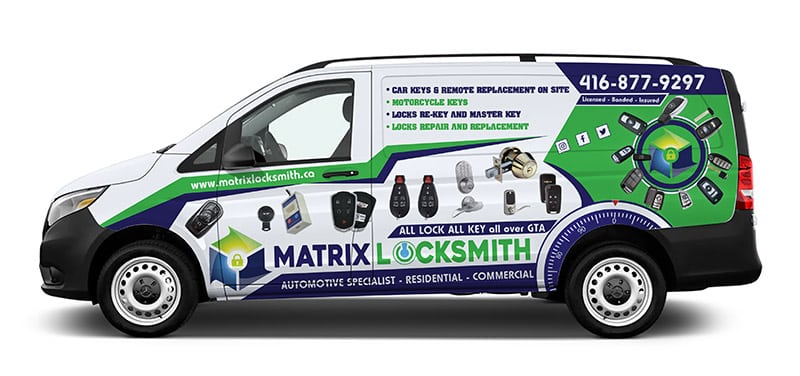 Rekeying a lock involves changing the lock pins and springs found in the lock and replacing the with new and different pins and springs to support a new key in locking and unlocking the lock.
This is more of changing the keys to obtain new different keys to the locks to prevent any unauthorized persons with old keys from accessing premises.
Rekeying mostly sorts out when keys are lost and when keys where stolen.
Lock Rekey service with Toronto Professional locksmith may cost up to $65 depending on the type of lock invoiced .
Locksmith Toronto service hubs are widely available across the cities in Ontario,
Call us (416) 877-9297  for a fast and Professional Residential and Commercial Locksmith Services
 commercial store front door high security door lock installation and repair