BALDWIN LOCK HARDWARE – ENTRANCE, KEYLESS ENTRY
Elegance, style and durability.  Baldwin Hardware. These have been the three most recognized features of the Baldwin family for at least 60 years. In all of their models you can feel the weight of delicately forged brass. BALDWIN LOGO for all Baldwin lock hardware Baldwin locks are among the sturdiest in the market and have proven to be of exquisite yet durable quality.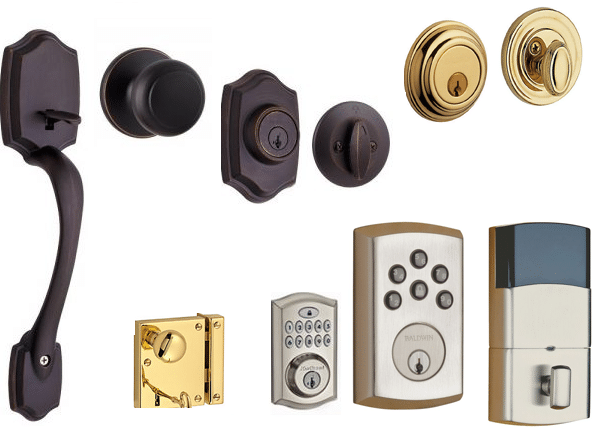 Matrix Locksmith carries all products in every Baldwin Lock portfolio:
Prestige: Affordable and yet durable, these brass handle Baldwin hardware are among the most common option for interiors and are the stock locks for many building projects. Very durable and easy to install.
Reserve:  These cover the middle range of Baldwin locks . You can feel the weight of the finished brass every time you hold a lever or turn a knob. These need professional installation in order to guarantee Baldwin quality protection.
Estate:  Lavish yet strong. These represent the ultimate combination of style and protection. Extremely quiet operation, concealed screws, totally exquisite. Professional installation is required.
MATRIX LOCKSMITH BALDWIN PRODUCTS