Matrix Locksmith, the top-rated Woodbridge Locksmith, is always committed to providing safety and peace of mind of their customers in Vaughan, recently opened a shop in Woodbridge. We now seek to become the leading security solutions provider for all residents and employers in the area. After the 2009 tornado, our lines were overwhelmed with calls from people who were in dire need of new doors and locks. While helping the community in their rebuilding efforts, we observed that many buildings lacked the proper exit hardware and preventive measures, and much of what was installed was outdated.
We vowed to make Woodbridge a safer place for everyone. That is why we now offer the latest panic and exit hardware, and install it always complying with the most strict state and federal regulations. The goal is to prevent unfortunate occurrences if the elements strike again and minimize damages and repairing costs.
#1 Locksmith services in Woodbridge, Ontario
As all good and respectable locksmith agencies in Toronto, we offer great emergency services for those who find themselves having troubles entering their homes or vehicles. Lost your key? Let our experts craft a couple duplicates for you right on the spot.
Was your lock forced open? You need to immediately replace it with a strong and impossible to pick deadbolt. Our technicians will come to your place with the right lockset and tools to get your life back to normality. Left your keys inside your car? No need to fear the winter cold. A mobile unit will go right where you are and get you back in your car in mere minutes.
24/7 Locksmith Woodbridge – Emergency Services
You just have to give our emergency lines a call, and they will answer any time of the day, any day of the week. Even on holidays! If you just moved into a new house, or plan to renovate, do not forget to call Matrix Locksmith Toronto experts to help you change your old locks for sturdier and beautiful knobs and levers that will not only bring you peace of mind, but also increase your home´s value.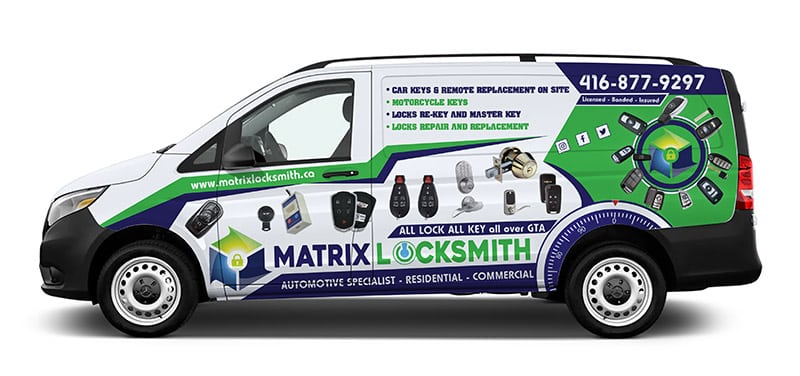 Call Us For #1 Woodbridge Locksmith Service