Broken Key Extraction from Ignition Locksmith Toronto
Having a problem with your keys? Is your lock becoming hard to open? Did your key just broke off inside your lock?  Broken KEY Extraction is what you Need !
Broken key removal from the ignition or a door lock with Toronto locksmith
We Matrix locksmith Toronto are mobile and can arrive to your location as soon as you call us, we are local locksmith company  servicing Toronto and the GTA area. Hearing that snapping sound as you turned your key is something you never expect but you certainly fear. As soon as you hear that terrifying sound, just stop!
Do not reinsert the rest of the key and try to open your door. The more you push the blade, the harder it will be to remove the broken part.
You must call the trusted experts at Matrix Locksmith right away. 
Matrix Emergency Locksmith can immediately respond to your issue , with our mobile locksmith vans , our locksmith are servicing Toronto and the GTA Our 24/7 emergency service was designed around the idea of immediate attention and total coverage for the Greater Toronto Area. Our mobile locksmith services have all the necessary tools for broken key extraction from front door locks of any kind, car doors, trunk doors, padlocks and ignition cylinders.
CAR KEY BROKE KEY EXTRACTION IN THE IGNITION
How do you get a broken key out of the ignition?
Broken key extraction and removing key use a needle-nose pliers
First move all obstruction in the ignition and around it
Now put the ignition on a " neutral " position , to make sure the tumblers are not gripping to each other
use a gentle force to pull with the hacksaw blade. With that said, if the teeth grabs the key and pulls it out you are on the right track
Now we need to use both the hacksaw blade and the pliers – use both hands again with gentle force to pull with the pliers and push with blade .
This step requires some imagination , as well if you are not sure whether you can do it without damaging the ignition , please call an Auto locksmith , a professional locksmith can extract the broken key easily without damaging the ignition , if you are confident with the following steps , lets continue with the steps
you need a piece of wire about 8 inch, slide it into the ignition behind the key and try the catch / grab it. IF in case you haven't been able to grab the key use the same wire and slide it this time in the front of the key and try to grab it again.
We are almost done, now please use a WD-40 spray to oil the ignition for a smooth extraction, take the hacksaw blade , wiggle the blade after having the WD into the ignition and around.
Once again if you are Calling a Car Locksmith is probably a better and in a long run cheaper solution, as this is what the locksmith does as part of his expertise after having school and locksmith training, also most locksmith guarantee their work so you will have a warranty to ensure no major damage was done to the car .
Calling Matrix Locksmith Toronto for all your Car key and Ignition replacement and repair .
Near You Locksmith will be able to help you with a Broken Key extraction form the ignition!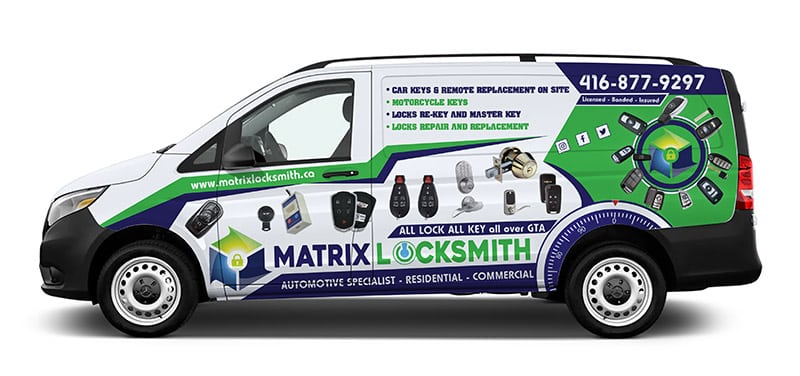 Broken Key Removal Toronto
This is a tough one. Keys, as any other piece of hardware, also feel the effects of constant wear. Sometimes it is easy to know when a key is no longer in good shape.
 You have to wiggle it inside your lock in order to open it, or it looks like the key blade is about to detach from its head. However, we only notice it when it is too late and the blade breaks right when you turn it inside your lock.
Key Extraction of All Types of Keys
Extracting the broken key from your lock is really hard if you do not have the right tools for the job. Fortunately,
 Matrix mobile locksmith services come equipped with everything a master locksmith needs to extract your key within minutes without damaging your lock. 
We have the best broken key extraction service in Toronto, and that is why our team will also provide you with a brand new set of expertly made duplicates for your convenience.